What to do if your cooker gives off a strong smell of gas
>
>
What to do if your cooker gives off a strong smell of gas
Do you smell gas in the kitchen? Is there a strong smell of gas from your oven?
Gas is flammable substance that can be fatal if you inhale it over a long period of time.
Natural gas is odourless but suppliers add the noxious scent to natural gas as an olfactory warning that the harmful vapours are loose in the air.
One of the most common causes of gas leaks is the use of very old or broken appliances, such as cookers. In fact most leaks are caused by people leaving an appliance in an unsafe condition e.g. leaving gas burners turned on but not burning or moving an appliance without checking the gas connections and so on.
If you smell gas, or believe that you have a gas leak you must call for your local gas registered engineer or plumber to inspect the property and make everything safe.
If you have a strong smell coming from your gas oven you should:
1. Get everyone else out of the kitchen
If you find it difficult to breathe or the smell is very strong or you can hear a loud hissing sound of escaping gas escaping, leave the kitchen immediately and get everyone out of the building.
Do not turn/flip any electrical switches as this could cause a spark that could ignite the gas.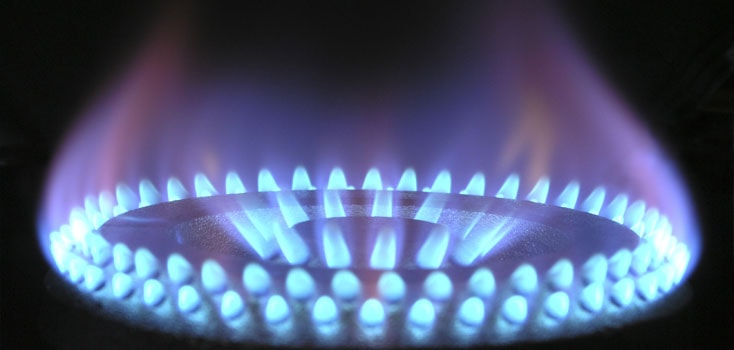 2. Check the hob switches
If the smell of gas is not overpowering and you can breathe easily and cannot hear the sound of escaping gas, then check that all of the oven switches for burners are turned off.
If one or two are turned on but not burning, this may be the cause of your gas leak.
Also ensure all knobs are turned to the off position.
3. Check the oven switches
If the main oven is gas, ensure that the switch is in the off position.
Open up the windows to air the room.
4. Turn off the Gas mains
If you still smell gas or still suspect that you have a leak, turn off your gas at the mains.
Usually there will be an emergency valve near your gas meter. This is usually located outside the building in its own box.
Turn this lever into the off position. It is fully off when the lever is at right angle to the pipe.
5. Call your local registered Gas Plumber or Engineer
If gas is escaping into your house via a leaking pipe or poorly maintained appliance you must get a specialist gas registered engineer to check out your gas supply, connections and appliances.
Click here to find your local gas plumber or engineer.
6. Ongoing gas safety checks
If you have a gas boiler, fire or appliances around the home you should get them checked every year by a certified professional.
Each Gas Safe registered engineer must carry a photo ID card that will list on the back of it the type of gas work they are qualified to undertake.
If the plumber or Engineer does not have one of these cards or is qualified to work on domestic appliances DO NOT let them carry out any works.
Tagged with:
Domestic Appliance Repair
Emergency Plumber
Gas Leak
Gas Safe
Gas Safety
How to Guides
Local Plumber
Plumbers
Plumbing Service