Need more customer reviews for your business?
>
>
Need more customer reviews for your business?
As a business owner I'm sure you can relate to this scenario:
You have a happy customer that promises to leave you a glowing review. You explain exactly how to leave some feedback, but then the review never actually materialises.
It's frustrating isn't it!
Then, to add further insult to injury, another customer takes all the time in the world to leave you a bad review on Trust Pilot, Google My Business and even your Facebook page – hell, they even take the time to call your parents.
Well good news, we've solved the problem
How about instead of relying on your customers to leave you a review, we just call them on your behalf and collect a review for you?
What's more, we'll even post their reviews on your Thomson Local advert with a fancy 'Verified by Thomson Local' badge alongside it.
Here's a nice visual of how Verified Reviews works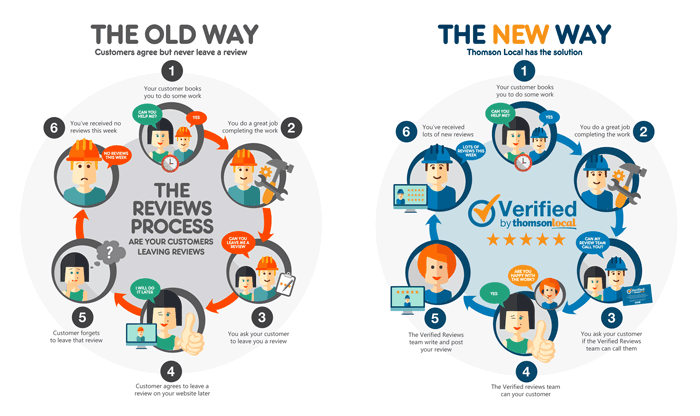 Tell me more about Verified Reviews
To find out more give us a quick call on 03330 145 045 or email us at info@thomsonlocal.com and we'll send over some information.
Why should you care about customer reviews?
You should care because your customers care.
People are getting pretty savvy thanks to the internet and it only takes a few clicks to see what other people are saying about your products and services online.
In fact, studies like this one from Northwestern University show that a large number of purchases online are heavily influenced by the recommendations of others.
Google cares too. In fact, your reputation on websites like Trust Pilot, Trip Advisor and Google Reviews form part of your online authority – which in turn has an impact on how your business performs online.
If you want to find out more, check out our easy to follow article on why business reviews matter and how to get them.
Tagged with:
Business reviews
Google Reviews
Local business
Local SEO
Trust Pilot
Verified Reviews