Essential Websites
An Essential Website from thomsonlocal is a 3 page templated website packed full with features to showcase your business in the best possible way.
These sites are ideal for:
New businesses, startups and sole traders on tight budgets.
Businesses that only need a basic presence online or need to get online fast.
Local businesses that need a web address on their business cards, vehicles or letterheads for customers to get in touch.
If this sounds like you then an Essential Site from thomsonlocal might be the right choice for your business.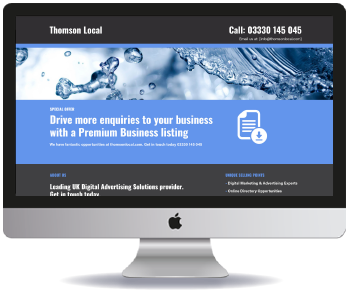 Templates to suit your requirements
We offer both content rich and content light templates to show off your business in it's best light.
Try out our interactive templates below.
Not found what you need? Give us a call on 03330 145 145 and we can discuss your requirements in more detail. Our V6 Business Website may be more suitable. Call us now.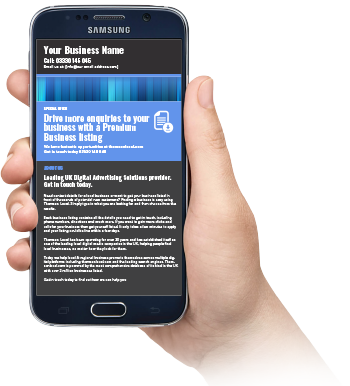 Mobile first design
Due to the increasing number of people browsing the internet from their phones, Google now operates from a "mobile first" standpoint. Essentially this means that your website will be assessed by Google on how well it caters to users visiting from their mobile phones.
Your thomsonlocal Essential Website has been built from the ground up for mobile devices. This responsive design means that your website can adapt to all screen sizes and device types ensuring everyone gets the same high-quality browsing experience.
All things being equal, a website that offers a high-end experience for smartphone users can enjoy a boost in search engine rankings over a website that doesn't.
What's included with your Essential Website?
Your new website may be templated, but it's certainly not lacking in the features department:
Responsive Design

So your Essential Site will display correctly on mobile, tablet and desktop.

UK Domain Name

Choose your own co.uk domain name (subject to availability).

Unlimited Images

Upload images to showcase your work.

HTTPS Security

Your website will be fully secure with its own SSL certificate.

Live Customer Reviews

All your thomsonlocal reviews appear on your site in real time.

Adjust Your Design and Colour

Personalise your website with a range of colour styles and layouts.

GDPR Compliant

Your Essential Website links to a comprehensive GDPR compliant privacy policy.

Social Media Links

Your site links through to your existing social media platforms.

Payment Methods

Display the logos of payment methods that you accept for your products and services.

Document Hosting

Allow your customers to download discount vouchers from your Essential Site.
What our customers say about thomsonlocal
Platt & Davis Building Services

Teale Building & Preservation

Tumblewash Launderettes

C & C Security Systems

AKS Pest Control Ltd

Domestic Appliances Ltd

McKeown Fencing

Ryan Roofing

Crown Glass
Ready to get started?
Simply use our contact us page or give us a quick call on 03330 145 04503330 145 045. We'll then put you in touch with one of our product experts to answer any questions you might have.
Contact Us