Verified Reviews
Verified Reviews is a solution to the age-old problem of customers promising to leave your business a review, but never actually doing it.
To get around this, our Verified Reviews team will contact your customers on your behalf to collect their feedback. This feedback is then posted on your thomsonlocal Business Listing as a Verified Review.
This leaves you free to concentrate on doing what you do best, safe in the knowledge that your online reputation is continuing to improve.
To find out more, call us on 03330 145 04503330 145 045. Lines are open between 9am and 5pm Monday to Friday. Or alternatively, drop us a quick email at info@thomsonlocal.com.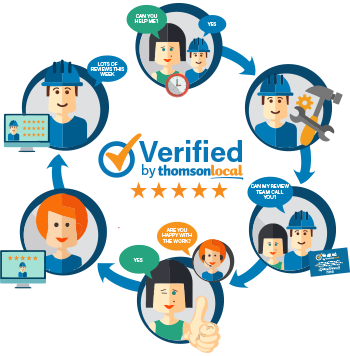 Why are online business reviews so important?
Customers buy from people they trust, so the more positive reviews you gain, the more likely it is that you'll achieve your business goals.
The statistics also speak for themselves:
95% of shoppers read online reviews before making a purchase (Spiegel Research Center)
93% of local consumers use reviews to determine if a local business is good or bad (Bright Local)
72% of customers don't take action until they have read reviews (Testimonial Engine)
84% of people trust reviews they read online as much as personal recommendations (Bright Local)
Reviews help you to improve
Gaining honest feedback from your customers is essential to understanding how well you are doing. This feedback could include useful suggestions and easy wins that could have a positive impact on your business.
How do Verified Reviews work?
You collect an email address or phone number from a customer that's agreed to leave you some feedback.
You pass this information along to the Verified Reviews team using our customer portal (AdCentre), or alternatively via WhatsApp or text message.
Our Verified Reviews team will then contact your customer by phone and gather their feedback on your behalf.
This review is then added to your thomsonlocal business listing and marked with a stamp to prove that it's a Verified Review. You can also display the reviews on your website using the Verified Reviews Widget.
What kind of questions do we ask your customers?
The Verified Reviews team will ask your customers a variety of questions, each related to a different aspect of their overall experience with your company.
Here are some examples:
What did you hire them to do?
Did they meet your expectations?
Were they on time?
Did they leave things clean and tidy?
Were they polite and professional?
Were you happy with the work?
Would you recommend them?
How would you rate them from 1-5?
The phone call lasts around 10 minutes and is handled by a member of our UK based Verified Reviews team. So, you can be sure that your company is represented in the best possible light when we call.
What our customers say about thomsonlocal
Crown Glass

Platt & Davis Building Services

Ryan Roofing

Domestic Appliances Ltd

Tumblewash Launderettes

AKS Pest Control Ltd

C & C Security Systems

McKeown Fencing

Teale Building & Preservation
Ready to get started?
Simply use our contact us page or give us a quick call on 03330 145 04503330 145 045. We'll then put you in touch with one of our product experts to answer any questions you might have.
Contact Us