What is Pay Per Click (PPC)?
PPC (Pay Per Click) advertising, or Search Engine Marketing, is an advertising model of increasing the visibility of your website on search engines results pages, such as Google or Microsoft Bing, by paying to appear on the search engine itself.
It works by your advert being displayed to potential customers based on the words and phrases that they search for. You then pay each time these potential customers click through to your website.
PPC is an excellent way to generate almost immediate traffic to your website, This is ideal if you have a brand-new site and need to gain initial traffic while you wait for natural organic traffic to develop. It is also a useful tool to generate traffic to sales landing pages with special offers and promotions.
The effectiveness of this type of advertising can be measured using the ratios CPC (cost per click) or CPI (cost per impression).
To find out more, call us on 03330 145 04503330 145 045. Our team are available to talk with you between 9am and 5pm Monday to Friday. Or alternatively, drop us a quick email at info@thomsonlocal.com and we will get back to you.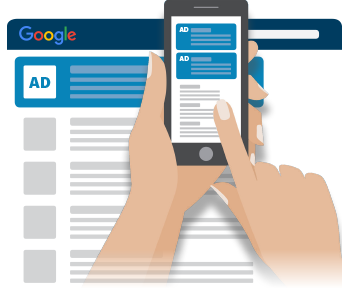 Order your PPC today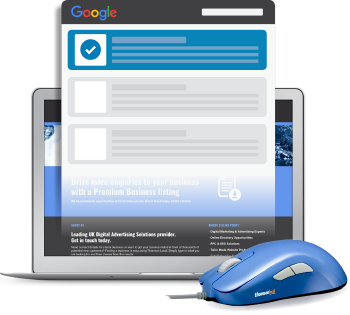 How to get the most from your PPC campaign
The ideal goal of any successful PPC campaign is for you to make more money in sales from converting clicks into customers than you pay to get those clicks in the first place. To achieve this, you need to ensure that your website matches the expectations of anyone choosing to click on your advert.
This includes:
Sending visitors to the correct page
Honouring any special offers or claims listed in your advert
Making sure relevant information is easy to find
Ensuring the page loads fast with no errors
Providing clear signage for visitors to convert into customers
What's included in your PPC campaign?
Keywords

The words and phrases related to what you do, for example, "emergency plumber" or "24-hour locksmith". These words and phrases are then matched with the keywords that people type into search engines.

Ad Text

Your ad text includes two headlines, a description, and a URL to your page. We can also include your business phone number and address - however, there are no guarantees that the search engines will choose to show them.

GEO Modifiers

This is the location you want to cover, so, if you want your advert to appear in Guildford, this would be added as a GEO modifier. Your advert can also be shown to searchers based on the location of their IP address.

PPC Fund

This is the pot used to fund your PPC adverts. Your fund will be spread effectively across the month and any unused fund will be rolled over into the following month.
Why choose thomsonlocal PPC Flex
In these challenging times, choosing the right PPC provider has never been more important. thomsonlocal have over 20 years' experience in running PPC campaigns for SMEs, both locally and nationally.
Our PPC Flex service runs on an industry leading, award-winning budgeting platform that uses real-time bidding algorithms to generate effective campaigns for your business.
We spread your fund across both Google and Microsoft Bing increasing your opportunities to be seen online.
Not only does our PPC Flex have one of the lowest management fees in the marketplace today, ranging from 10% to 20% depending on the level of management you require, it has also been created to provide you with maximum flexibility allowing you to flex your spend when you need to and even pause your service should you need to*.
Flexible management options
You will manage your spend and monitor performance through our customer portal. We will determine the most appropriate keywords based on your business sector and location.

Summary performance report

Award winning bid platform

We will work closely with you to ensure your campaign is providing maximum return. You manage your monthly spend and monitor performance through our customer portal. Pause your campaign for up to 3 months within a 12-month period*.

Detailed performance report

Ability to pause for up to 3 months*

Award winning bid platform

We manage your campaign for you. We monitor performance and adjust keywords and content when necessary. You can manage your spend and monitor performance through our customer portal. Pause your campaign for up to 3 months within a 12-month period*.

Performance monitoring & reporting

Ability to pause for up to 3 months*

Award winning bid platform

Automatic content adjustment
*Your fund will be set to £1 per month to cover administrative costs whilst your campaign is paused
Order your PPC Flex today
What our customers say about thomsonlocal
McKeown Fencing

Ryan Roofing

Crown Glass

Teale Building & Preservation

Tumblewash Launderettes

Domestic Appliances Ltd

C & C Security Systems

AKS Pest Control Ltd

Platt & Davis Building Services