Get Me Everywhere Plus (GME Plus)
If you are interested in improving your local SEO performance, then gaining consistent business citations is an absolute must.
Get Me Everywhere Plus, or GME Plus for short, is a business citation service that submits your business name, address and telephone number (NAP details) to the business citation websites that leading search engines (such as Google) care about.
When the search engines see that your business is mentioned consistently online, they interpret this information as a sign of quality. And since search engines care about serving up accurate information to their users, your business will enjoy a boost in local search verticals such as the Google Local Pack.
To find out more, call us on 03330 145 04503330 145 045. Lines are open between 9am and 5pm Monday to Friday. Or alternatively, drop us a quick email at info@thomsonlocal.com.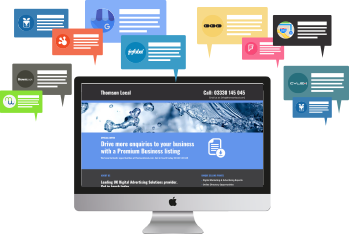 Where do we submit your business citations?
With GME Plus, we focus on quality over quantity to secure your place on the 15 most high-value citation websites available in the UK. This includes 192.com, Foursquare, Cylex-UK and Google My Business.
Each of these citation websites has a high domain authority, which means they are likely to perform well on search engines. This authority is then passed down to the businesses that they list, giving you a boost in local search as a result.
Get listed on Google My Business
A Google My Business listing (GMB Listing) is more than just a business citation, it's an essential part of getting your business to perform well in local search. Once verified, your business can then appear on both Google Maps and in the Google Local Pack for searches in your area.
We check your citations to ensure they stay consistent
We will provide you with regular reports to show you the citation websites you are currently listed on and whether there are any inconsistencies in your business name, address and telephone number details. This means you gain the peace of mind in knowing that your business citations are in safe hands.
What our customers say about thomsonlocal
Domestic Appliances Ltd

C & C Security Systems

AKS Pest Control Ltd

Teale Building & Preservation

Crown Glass

Tumblewash Launderettes

Ryan Roofing

Platt & Davis Building Services

McKeown Fencing
Ready to get started?
Simply use our contact us page or give us a quick call on 03330 145 04503330 145 045. We'll then put you in touch with one of our product experts to answer any questions you might have.
Contact Us