How to Make a Customer, Not a Sale – The 2017 FSB Sales Conference
>
>
How to Make a Customer, Not a Sale – The 2017 FSB Sales Conference
When we told our Learning, Communications & Product Fulfilment Manager, Richard Morrow, that he was going to the De Vere Cotswold Water Park Hotel in South Cerney, he probably thought he was in for some well-earned rest and a little relaxation. Little did he know, we had other plans for him…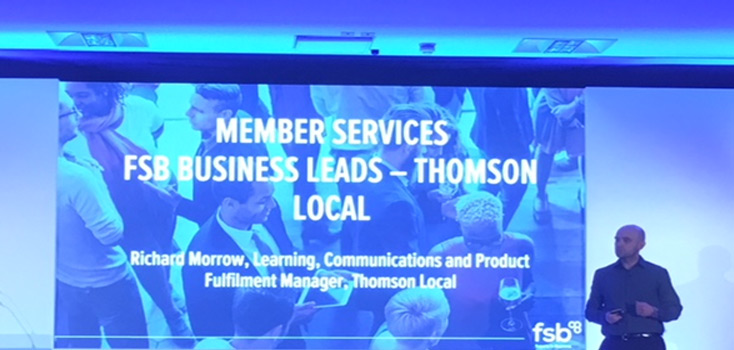 Exclusively for FSB Members – 20% off selected Thomson Local Digital Advertising Products
Rich attended the annual FSB Sales Conference to showcase this exclusive offer to senior members of the FSB sales force. Other attendees included motivation speaker Gavin Ingham and Kevin Keegan, OBE.
Here are Rich's own words about the event:
"The FSB sales conference provided Thomson Local with a superb opportunity to get in front of an audience who can really help promote our Thomson Local brand and product suite to a widely recognised federation and more importantly to their members.

The FSB partnership provides a "great fit" in terms of their members and the needs and desires they have coupled with the products we provide to help create a superb benefit.

As a result of the sales conference we are confident that we will gain even more traction and help drive more Thomson Local sales via the FSB sales channel."
Which Thomson Local advertising products are included?
This money saving discount applies to the following products:
Get in touch to find out more
Some products included in this offer are subject to strictly limited availability for industry type and area so make sure you claim yours before someone else does.
Contact us today on 03330 145 045 or email us at info@thomsonlocal.com
Tagged with:
Federation of Small Business
FSB
Richard Morrow
Sales