8 ways to succeed as a local business
>
>
8 ways to succeed as a local business
If you have a local business there are a number of things you could and should be doing to ensure that you stay one step ahead of your competitors. Want to know what they are? Let's find out.
1. Google My Business (GMB) Listing
What is a Google My Business Listing?
A Google My Business Listing is a Google service that allows you to manage the visibility of your business across Google search and Google maps.
Update: We've created a Complete Guide to Google My Business to help you get the most out of your local pack rankings.
What do you gain from a Google My Business Listing?
Firstly you will be able to gain Google Reviews from your customers.
Secondly, your business will have a chance of appearing in Google's 'local 3 pack' results for your industry and area.
Thirdly, your business will also appear on Google maps along with a description of what you do, opening hours, reviews and any other details you want to share with your customers.
See below for an example of what the Google 'local 3 pack' looks like: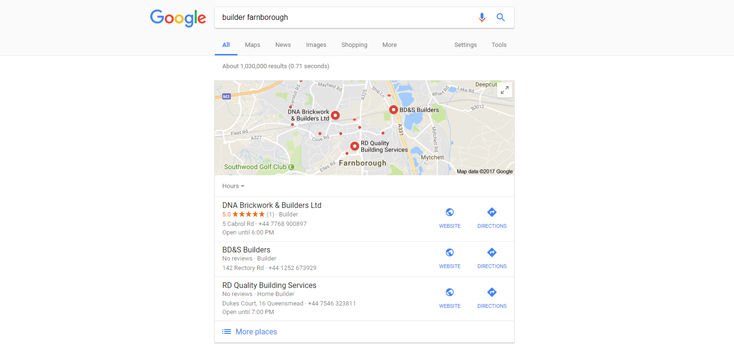 2. Business Website
Why should you get a business website?
A business website allows you to showcase your products and services to an online audience of potential customers.
A business website validates your business in the eyes of those that would expect a legitimate businesss to have a website.
Want to know more about the benefits of having a business website?
We can help you understand your website needs and offer a range of website products to suit businesses of all sizes and budgets.
3. Search Engine Optimisation (SEO)
Why should you invest in SEO for your local business?
Investing in SEO is the same as investing in your local reputation. If you get it right you can attract long term traffic to your website and potentially convert those visitors into customers.
The key to SEO success is getting your business to rank highly on Google for the words and phrases related to what your business does. SEO is a slow burner though and requires just as much time and patience to see results as it does technical knowhow.
Want to learn more about SEO for local business?
Check out our recent What exactly is SEO? article or visit our SEO Product page to request more information about our SEO services for local business.
4. Pay Per Click (PPC)
What is PPC?
PPC is a form of internet advertising where advertisers pay a fee each time their advert is clicked.
Why should you use PPC?
Unlike SEO, PPC allows you to gain immediate footfall on your website by paying for the visits. This can be useful if your website is relatively new or if you want to draw attention to a specific page, product or special offer.
The goal of using PPC effectively is to make more money in sales/conversions than you do on the cost of paying for the clicks that lead to those conversions.
Want to find out more about PPC?
You can request more information and advice about PPC on our PPC Product page.
5. Online Advertising / Display Advertising
What is display advertising?
Display advertising, such as banners, MPU's, etc is a form of visual advertising that can provide a great source of traffic for your business – especially when placed on high traffic websites that are visited by potential customers of yours.
Is display advertising good for local businesses?
Display advertising is a form of indirect marketing – much like having your business advertised on a physical billboard. This means that your return of investment shouldn't be measured by the volume of calls and clicks you receive, it's also about brand awareness and how much exposure your business is getting.
Need to know more about display advertising?
Check out our recent article: 5 Benefits of Display Advertising.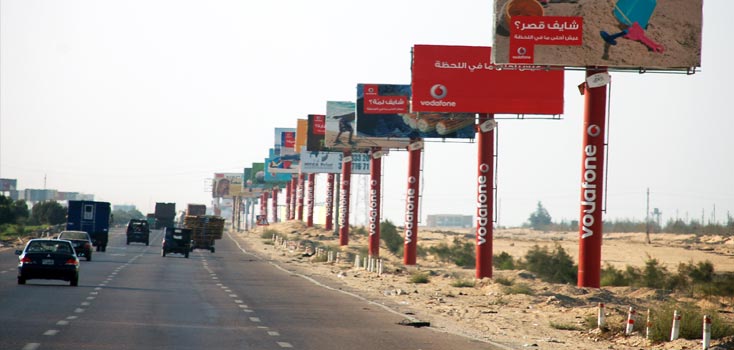 6. Social Media
How does social media help local businesses?
Social Media is a great way to raise awareness of your business and effectively interact with your past, present and future customers. It's also a fantastic way to build a following by putting a 'face' to your brand. This is because people buy from those that they trust and being able to connect with you on a social level helps to build that trust.
Once you have a social media following you effectively have a captive audience that can be interacted with whenever you choose. This engagement can range from basic customer service on a platform your customers feel comfortable using to being the direct route for your product and service promotions.
7. Customer Reviews
Why are customer reviews important for local businesses?
Customer reviews are vital to building an online reputation and gaining the trust of potential new customers. They also help you to gauge how well you are doing and whether there is anything you could be doing to improve.
The public nature of your reviews also helps customers to see how well you respond to critcism. For example, going out of your way to solve the issues raised in an angry 1 star review could benefit your reputation almost as much as a glowing 5 star review would.
Want find out how to get more customer reviews?
Check out our recent article: Why you need customer reviews and how to get them for advice on how to get business reviews and how to handle common issues that may occur.
8. Business Citations
What is a business citation?
A citation is an online mention of your businesses name, address, phone number and website link – often referred to as your name, address and telephone number or NAP.
How can business citations help local businesses?
Most reputable NAP providers will validate the records that they hold to ensure they are accurate. This consistent presence of your correct NAP details on multiple websites is considered to be a positive SEO ranking factor.
Want to find out more about business citations?
Adding citations can be a slow and laborious process. Check out our citation submission service Get Me Everywhere to take away the hassle of citation building.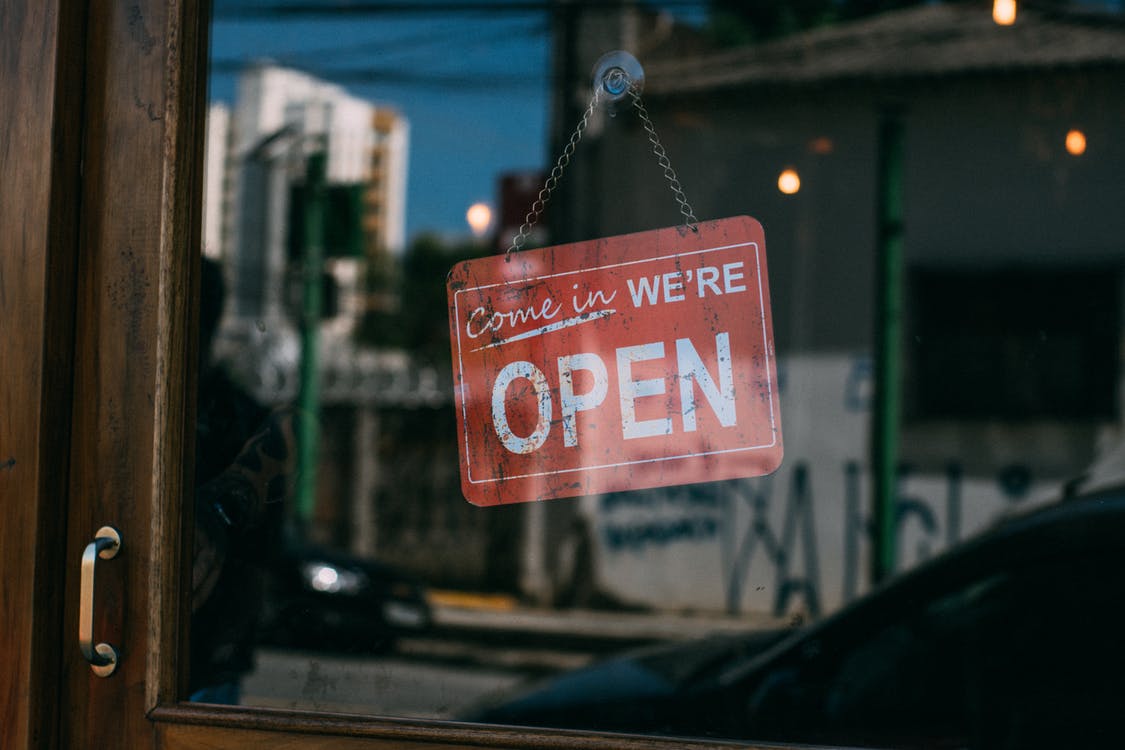 Tagged with:
Business Reviews
Citations
GMB
Google My Business
Local Business
PPC
SEO
Social Media