How to gain new leads with an affordable business video
>
>
How to gain new leads with an affordable business video
There's just no denying it, people love watching videos online
In fact, in the next 30 days, more video content will be uploaded to the web than the world's television networks have aired in the past 30 years!
With such staggering demand for video content, it's easy to understand why so many business owners are eager to promote their products and services via video.
Until recently though, professional video advertising has been out of reach for many small businesses, due to the costs involved. That is, until now.
Direct your own business video, without breaking the bank
Imagine this – your very own promotional video, complete with music, branding and a professional voiceover.
All created in 20 minutes online, using your PC or smartphone, at a price that small business owners can actually afford.
Got a spare minute and a half? Press play:
Get your own video, or find out more today
Our specialist video team will be happy to answer any questions you may have. Just call 03330 145 045 for a quick chat, or email us at info@thomsonlocal.com.
Why do you need a video?
People want instant access to information online and if that information is not easily accessible and engaging, people will not want to know.
This is why video is so popular online. It takes less effort to watch a video versus reading a block of text. It's also far easier for our brains to absorb a visual versus a description of that visual.
Take a popular TV show like Game of Thrones as an example. The majority of people didn't even know it existed until it was adapted for TV.
And that isn't because it's a bad story, it's because it wasn't as accessible as it is now.
So, with the continued demand for online video, and the ease of getting your message across, the real question here is, why wouldn't you want a business video?
The facts speak for themselves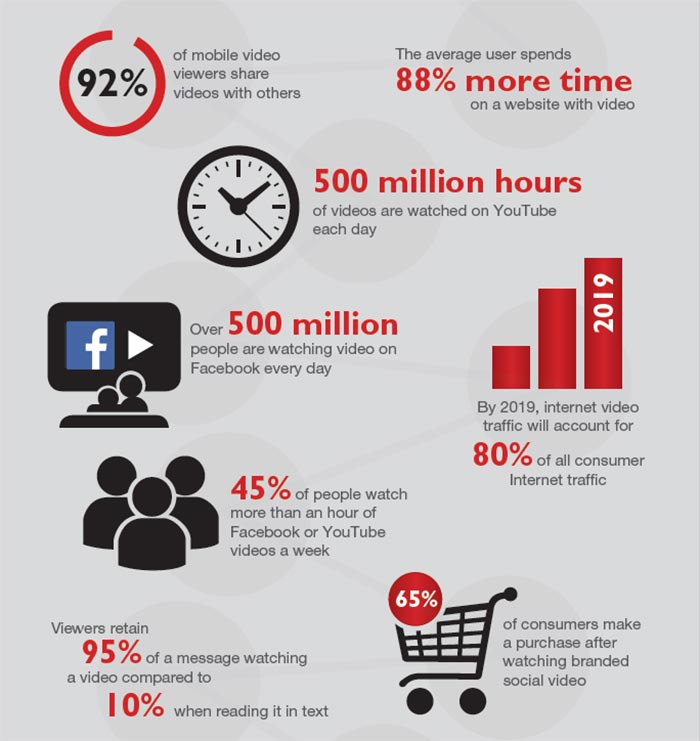 How does a business video benefit you?
Access to an ever-growing audience of potential customers that love video
Increased credibility – with a professional voiceover describing your products and services
Increased brand awareness – thanks to the ease that videos can be shared online
Improved SEO – Google loves video content, especially when paired with text and images
Staying current with modern technology – video usage is massive on mobile devices
This potent combination of benefits is the reason why our video service can help you your grow your brand and gain new leads.
How to distribute a business video
Simply having a business video isn't enough, you also have to show it to your potential customers to get results. Here are some great ways to distribute your business video:
Social Media – upload your video directly to places like Facebook, YouTube and Instagram. Try to include a description of your video, including the products and services you offer, how they can benefit your customers and most importantly, how your customers can get in touch.
Your website – don't just add your video to your homepage. Add it to a dedicated landing page that guides the reader towards using your products or services. The video should be part of the message that this page is promoting.
Email – including a direct link to your video, or a link to a landing page containing your video is a great way to encourage people to engage with your message. Make sure you mention how short the video is and whether they need to hear the sound – this helps eliminate questions in the mind of the customer that might prevent them from watching the video then and there.
Your Thomson Local Business Listing – we can add your video directly to your business listing. This will help to strengthen your pitch and encourage people to engage with your advert.
Encouraging others to share – ask your friends, family and existing customers to share the video too. The more exposure it gets, the more likely it is to deliver results.
Don't forget to get in touch
Remember, we're happy to answer any questions you may have. Just give us a quick call on 03330 145 045 or email us at info@thomsonlocal.com for a no obligation chat about your video.
Video stats courtesty of Biteable.
Tagged with:
Business Video
Corporate Video
Online Video
Promotional Video
Social Media Video
Video Advertising
Video for Business