What are GEO pages? And why does my local business need them?
>
>
What are GEO pages? And why does my local business need them?
In a nutshell, GEO pages help local businesses gain more customers by ranking their products and services in multiple locations throughout the UK.
How do GEO pages work?
Google favours local over national. This is because the large majority of searchers are using mobile phones to search online and in most cases they want to find a product or service that is close by.
This means that local business aren't just competing for local physical footfall anymore, they are also competing for that same local footfall online too.
This is where GEO pages come in
This will take a moment or two to explain (actually more like a minute or two) but afterwards you're going to be a GEO page expert.
So you've probably noticed that most websites have different pages for different purposes – like an 'about page' to explain what the website is about, or a 'contact us' page so people can get in touch.
Having separate pages makes it easier for your visitors to find a specific bit of information on the website without having to trawl through lots of other irrelevant information on the page to find it.
Makes sense right?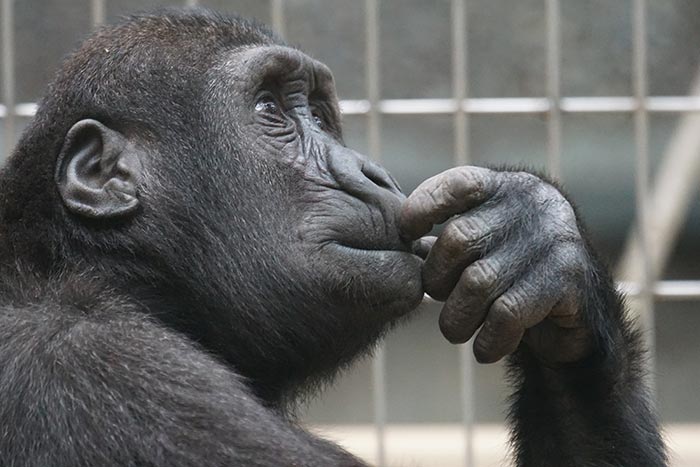 Well as it turns out, Google really likes this too
Which isn't surprising when you consider that Googles primary purpose is to help searchers find what they are looking for online.
So, if you are a Plumber in Kent that specialises in boiler repairs and leaky taps, it's better to have a separate page for each service rather than a single page for both.
That way, if someone searches for 'Leaky taps in Kent' your dedicated service page for 'leaky taps in Kent' has a chance of ranking on Google.
But what happens if someone searches for 'Leaky taps in Ashford' instead?
You might assume that Google will be aware that Ashford is in Kent and will serve up your 'Leaky taps in Kent' page – especially if that page says something like "We fix leaky taps in Kent and surrounding areas such as Ashford".
Unfortunately that probably won't be enough to rank well – for the exact same reasons why you wouldn't have a combined homepage, about page and contact us page like we discussed earlier.
So to rank your services in Ashford and Maidstone, you actually need to create additional service pages with their own original content to cater for those areas.
The end result will look a little bit like this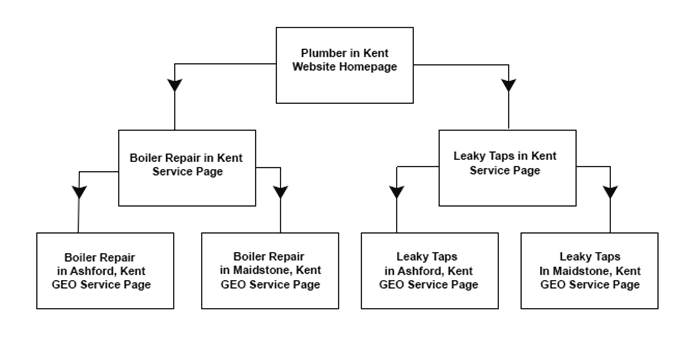 GEO pages sound like a lot of effort
Pretty much, but they really are worth it. Which is why we offer them as a handy bolt-on for our Website Product customers.
Without them you just don't have a very good chance of ranking your services in multiple areas. This is because each of those areas will probably have competitor websites built specifically for that area.
This is why GEO pages should become a key part of your online strategy. Think of it like a war where you fight local battles to capture territory. Eventually you might win enough battles to become the dominant provider in your county and beyond.
What is the alternative to GEO pages?
Using Kent as an example, you could try opening a physical business in every town and city in Kent.
This would actually be better than using GEO pages because you could then have a dedicated Google Maps listing for each area, and benefit from the local physical footfall.
But in reality what local business can afford to open dozens of local branches just to rank well on Google?
So how do you get your own GEO pages?
We offer GEO pages as a bolt on to our Website Product. This includes professionally writing the original content that's needed for your GEO page to have a chance of ranking well in a specific area.
If you want to take advantage of the potential of GEO pages for your local business then give us a quick call today on 03330 145 045 to find out more.
Alternatively drop us an email at info@thomsonlocal.com and we can send over some information for you.
Tagged with:
GEO Pages
Google
Google Maps
Local Business
Local SEO
SEO