Loading Directions

No directions found
236 Fore Street
,
Edmonton
,
N182QD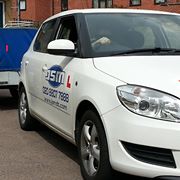 About us
The Home of all your Driving Training in London
Driving Lessons

Manual & Automatic Vehicles

PCV & LGV Training

Established in 1979
Are you looking for driving lessons? Do you want to lean how to drive a HGV? At JSM Driver Training, our team of highly skilled and qualified instructors get you out on the roads driving safely in no time. We have both manual and automatic vehicles for you to learn in. We offer the very best in PCV, HGV and LGV training, to get you on your way to a rewarding career. We understand how difficult studying for your theory test can be. We have a team of experts to help you get started and how to study for your theory, ensuring you have the knowledge you need to pass. Get in contact with us today to start your driving adventure. T: 0208 807 7888 F: 0208 803 1888 E: info@jsmdt.com Please mention Thomson Local, thank you.
236 Fore Street
,
Edmonton
,
N182QD
Loading Directions

JSM Driver Training - Driving Schools - 020 8807 7888 - Edmonton